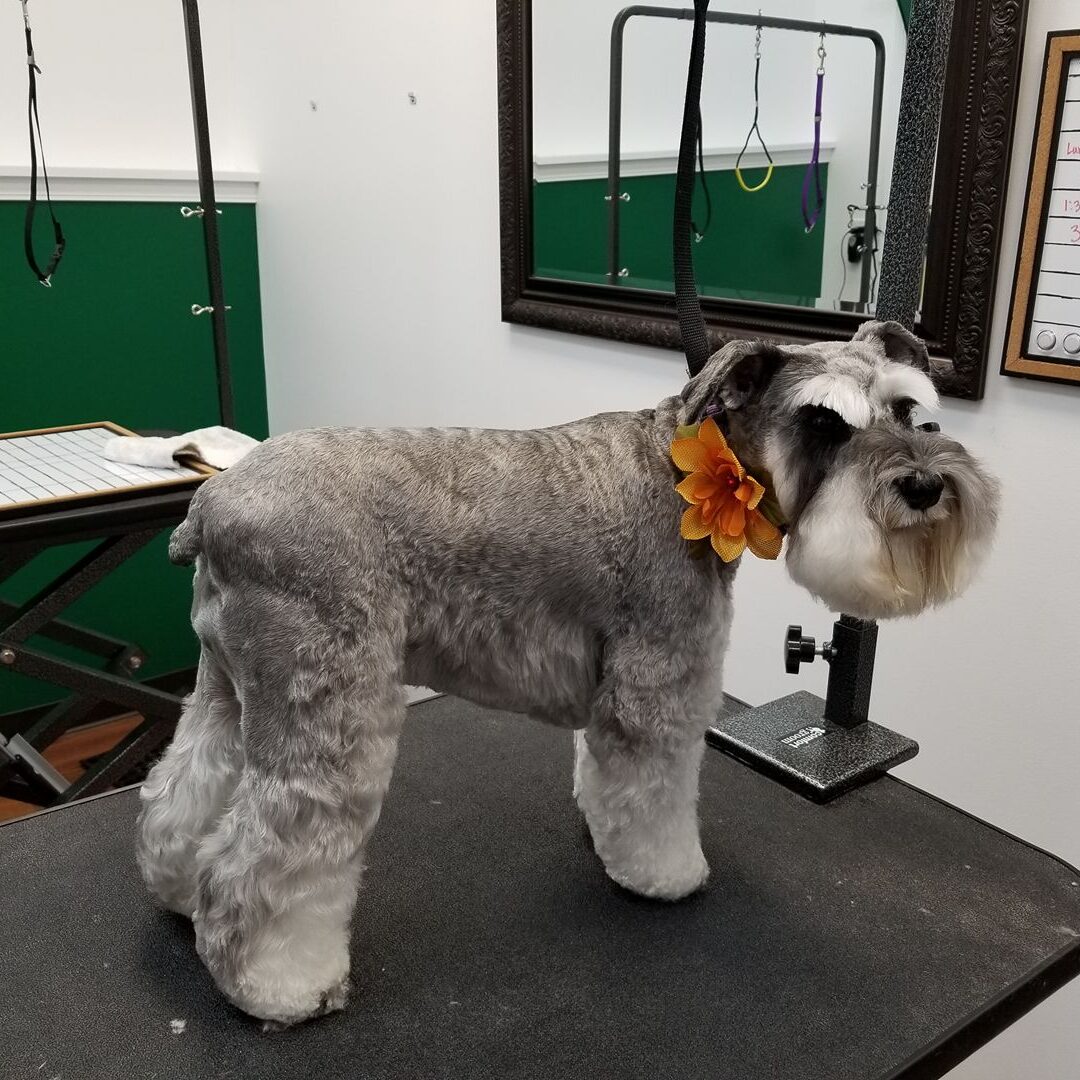 Full service grooming
Whether you would just like a bath or a breed standard haircut our knowledgeable pet stylists are happy to make it happen. Just schedule an appointment and then like magic you have a clean and beautifully styled pet. Dogs under 60lbs are charged $75 per hour, dogs 60lbs+ are charged $85 per hour, hand stripping dogs are $150 per hour and cats are $100 per hour with an hour minimum. Pets that are not picked up within an hour of completion call or text may be charged a boarding fee unless a previous arrangement has been discussed with the staff.
Self service dog wash
Want to bathe your pup yourself but don't want the mess and hassle of doing it at home? We have your solution! We have four self serve tubs to make this a simple process. We have all that you will need with a variety of shampoo, conditioner, towels and brushes. Pricing varies by size of dog; $20 for small dogs, $25 for medium, $30 for large. Self wash hours are from 9am to 5pm, please plan your arrival time so that you can be finished by 5pm.
High end Pet products
Need a new collar after visiting lake Sammamish or the dog park? Or perhaps just a tasty treat to spoil your friend after a bath. We have a variety of USA and Canada sourced pet products to pamper your pet.
Small Dog Daycare
Is your pup looking for a fun and safe place to spend their day while you are away at work? Look no further than our new small dog daycare.
À la carte services
At this time we are unable to accommodate walk in services. Nail trims must be scheduled and we are only able to allow a 5 minute grace period for late appointments or we will have to reschedule you and charge you for half of the missed appointment.
Price list
Small dog self serve: $15
Medium dog self serve: $20
Large dog self serve: $25
Foot Trim: $13
Face Trim: $12
Sanitary shave: $7
Toothbrushing: $15.50
Nail trim $18.50
Nail filing $21.50
Ear cleaning/plucking $12.50
Anal gland expression (External only) $15.50
Upgraded Spa package for full service grooms (luxury shampoo/conditioner, toothbrushing and nail filing): $25
Full service dog groom: $75 per hour
Full service cat groom: $100 per hour
Missed appointment fee: Half the scheduled appointment time.
Some of the products we carry
We strive to only offer our clients the best! Most of our treats and snacks are grain free and locally sourced if possible. Our retail products have been researched and tested (our dogs approve!) to be of quality.
Les Poochs Premium Grooming Products
Our selection of Les Poochs premium shampoos and conditioners will revitalize your dog's skin and coat. Add the Premium package to a grooming service for the silkiest coat your pet has ever had, or stop by to pick up a bottle from our retail store.
Ask for a sample (limited quantities available!)
Request an appointment today!
Feel free to call or stop by to request an appointment today!